What our customers say about us!
Mr Van Man Glasgow has been going for quite a while now and we think of ourselvs as one of the best value for money companies out there. Not only that but we take great pride in our customer service and to prove that we provide you withmany testimonials. If you want to read more you can click through to the FreeIndex website where we're Number 1 for Man and Van listings plus it will show you the 50+ testimonials we have gained from small to large removal jobs since we started.
Other Reasons to use US!


Mr Van Man Glasgow always try to make ourselves available to you 24/7 and will literally drive all over the country to make sure that your needs are met.
You will also notice just how professional we are at making sure your goods are secured properly in the van so nothing will break in transit.
Our Free Area Coverage
Mr Van Man Glasgow actually cover the entire UK for delivery or removals, you can see below just how far your first 20 miles free gets you.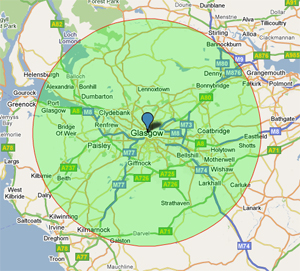 Long Distance Favorites
The prices below are to or from Glasgow and don't include loading and unloading time as that is unknown until we speak to you about the amount of stuff you have to move.