Mr Van Man Glasgow's Services
Mr Van Man Glasgow is a professional man and van company with value for money that you won't find anywhere else. What we do generally seems simple, we take your stuff from A to B and you would think that not much can go wrong with that, but we're sure you've heard the nightmare stories of plates or ornamants being broken or your good condition sofa not arriving in quite the same good condition with us that doesn't happen...WHY?
We take extra time to assess what you want moved and ensure that nothing is left to chance. We have so many happy customers because we do our job correclty and if you want to verify this just check out our testimonials page. here a couple below just to get you started.

Brilliant service! I used Mr Van Man to deliver a large painting, he arrived early and the van was very well equipped for moving a fragile object. The service was friendly, efficient and great value for money.- Jackie Anderson reviewed Mr Van Man Glasgow, 5 out of 5

Managed to book at short notice and got a great service - bang on time and friendly, efficient and helpful as could be. Wouldn't hesitate to use again.- David Kidd reviewed Mr Van Man Glasgow, 5 out of 5
Other Reasons to use US!


Mr Van Man Glasgow always try to make a man and van available to you 24/7 and will literally drive all over the country to make sure that your needs are met.
You will also notice just how professional we are at making sure your goods are secured properly in the van so nothing will break in transit.
Our Free Area Coverage
Mr Van Man Glasgow actually cover the entire UK for delivery or removals, you can see below just how far your first 20 miles free gets you.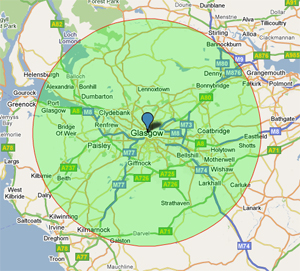 Long Distance Favorites
The prices below are to or from Glasgow and don't include loading and unloading time as that is unknown until we speak to you about the amount of stuff you have to move.