So what are Mr Van Man Glasgow's Prices?
We do our best to keep the pricing as simple as possible for you.
Short Distance Journeys






To make life simple we've got a professional and cost effective man and van hire for just £50 per hour, this gets you the first 20 miles for free. Alternatively you can book the man and van for a half day or full day with 1, 2 or more men to help with loading and unloading of goods.
We only start to charge when we arrive at your door and if you're worried about that extra 10 mins turning into a whole other hourly charge don't we only charge every 30 mins after that first hour.
Long Distance Journeys


Need more men? We can supply 2 or 3 men to help, please get in touch for free no obligation quote.
Other Reasons to use US!


Mr Van Man Glasgow always try to make ourselves available to you 24/7 and will literally drive all over the country to make sure that your needs are met.
You will also notice just how professional we are at making sure your goods are secured properly in the van so nothing will break in transit.
Our Free Area Coverage
Mr Van Man Glasgow actually cover the entire UK for delivery or removals, you can see below just how far your first 20 miles free gets you.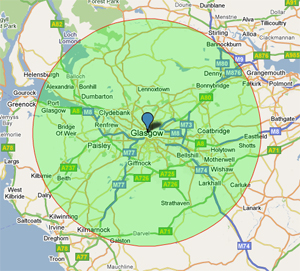 Long Distance Favorites
The prices below are to or from Glasgow and don't include loading and unloading time as that is unknown until we speak to you about the amount of stuff you have to move.